Day 1 :
Keynote Forum
McGill University, Canada
Time : 09:00-09:30

Biography:
Ian S Butler has been working at McGill University; he has served as the Department Chair and Associate Vice-Principal. He is an honorary member of the Spectroscopy Society of Canada, a fellow of both the Chemical Institute of Canada and the Royal Society of Chemistry. He has supervised about 200 researchers, resulting in the co-authorship of about 540 publications. His honors include the Gerhard Herzberg Award for Excellence in Spectroscopy and the David Thomson Award for Excellence in Graduate Teaching and Supervision. His current research focuses on structural changes induced by high pressures and variable temperatures, biomass conversion, mechanochemistry and art forensics.
Abstract:
Throughout the world, considerable effort is being expended in identifying and preserving objects of national cultural heritage interest. Art forensics is particularly important in repairing damaged paintings and frescoes through the identification of the pigments that artists have used over the centuries. Such pigment analyses are also crucial in identifying forgeries. Most large art museums, e.g., National Gallery in London, Getty Museum in California and Metropolitan Museum of Art in New York City, now have laboratories attached to them, which are equipped with an array of modern molecular spectroscopic instrumentation, e.g., infrared, Raman, single-crystal and powder X-ray diffraction and mass spectrometers. In our laboratory, we have focused our research work on the applications of infrared and Raman spectroscopy in art forensics. In particular, we have used photoacoustic infrared spectroscopy in establishing a data base of molecular spectroscopic information for a wide range of solid inorganic and organic pigments. In this lecture, we will give some selected examples of molecular spectroscopy in cultural heritage studies and also describe the technique of photoacoustic infrared spectroscopy and its application in art forensics.
Keynote Forum
Université de Bordeaux, ICMCB-CNRS, France
Time : 09:30-10:00

Biography:
Véronique Jubera is an Associate Professor-HDR, University of Bordeaux. She has over 70 publications in international journals. She is a specialist of luminescence in inorganic doped compounds. She has been working as an Associate Professor at the ICMCB-CNRS, University of Bordeaux since 14 years. Her research topic deals with the structure-luminescence properties of crystallized materials.
Abstract:
Considerable efforts have been carried out to develop new tools and research efforts in the domain of functionalized materials (information, lighting, communication, energy, etc.). As an illustration, to correlate the optical response of a material to another of its property is possible through the monitoring of the luminescence. Modifications of the doping element local environment are associated to crystal field strength modification. For instance, divalent manganese radiative transitions can be observed from the green to the red ranges. Synthesis control route makes possible a red to green luminescence switch of manganese doped spinel treated at high temperature in relation with the cation migration through the host lattice. In other matrices, external factors induce unit cell symmetry transition. This effect can also be observed in rare earth doped compounds as Eu3+ doped sesquioxide. Irradiation energy is also an efficiency factor which can initiate redox processes. The oxidation of europium +II to europium +III state results in a shift from blue to red emission and the UV irradiation of cerium doped indium elpasolite matrix leads to the decrease of the doping element emission in favor of a bright orange emission. The corresponding redox process is reversible under adequate irradiation or heat treatment temperature. Such local modification can easily be detected over the visible range. Emission of ZnO is strongly related to synthetic routes. Low operating temperature can result in the appearing of surface and bulk defects. Their existence impacts not only the emission wavelength but also its stability under specific atmosphere. Finally, luminescence spectroscopy is not only a technique to register the spectral distribution of the excitation or emission radiative de-excitation, it is also an efficient tool to highlight the influence of external factors and to record the history of a materials.
Tailoring of Mn2+ doped ZnAl2O4 luminescence with temperature.
Materials Science and Engineering | Materials Chemistry in Developing Areas | Formulating Materials Chemistry | Materials Synthesis and Characterization | Insilico Materials Chemistry | Regenerative Materials Chemistry
Location: Berlin, Germany
Session Introduction
Oxford University, UK

Biography:
Patrick S Grant has completed his PhD and Post-doctoral studies from Oxford University, UK. Currently, he is the Vesuvius Chair of Materials, Head of the Department of Materials at Oxford University, and Leader of the Processing of Advanced Materials Group that researches new processes for advanced structural and functional materials. He has published more than 200 papers journals and has 7 patents.
Abstract:
The development of electrochemical energy storage devices such as supercapacitors and Li ion batteries (LiB's) has been led by electrochemists, resulting in steady improvements in key performance metrics such as energy density, cycle life, etc. Over the same period, the production of electrochemical cells in which the positive and negative electrodes are slurry cast composites has accelerated to reach nearly 5 B pa. For a given electrochemical system, the optimization of the electrode microstructure in these devices has been empirical, inferred from exhaustive electrochemical testing, and advanced principally by varying the average fractions of the different materials (actives, binder, conductivity enhancers, porosity, etc.) in the composite electrode. Arguably, the penetration of exciting new energy storage chemistries has been slowed and constrained by a lack of optimization tools that account for the complexities of electrode dynamics and their degradation, and the absence of a flexible manufacturing technology for the fabrication of designed, structured electrodes with spatially varying properties. This talk will provide an overview of recent efforts of the Oxford Group to develop new processing routes that allow better micro- and meso-scale control of the electrode structure in both supercapacitors and batteries. Examples will be given of how these new approaches to electrode manufacturing can both enhance existing electrochemical systems and facilitate new systems that are otherwise difficult. Reference will be made to the cost-effectiveness and scalability of approaches, and the key insights and data that are needed from modeling and in-situ experiments to guide the future manufacture of optimized electrodes.
University of Zurich, Switzerland

Biography:
Sandra Luber received her MSc and PhD degree from ETH Zurich in 2007 and 2009, respectively. After Post-doctoral studies at Biozentrum of the University of Basel (2010) and Yale University (2010-2011), she joined BASF SE in 2012 as Project Leader at University of Zurich. Currently, she is a SNSF Professor at the University of Zurich. She is a recipient of many awards that include the ETH medal for an Outstanding PhD Thesis, the IBM Research Prize for Computer Modeling and Simulations in Chemistry, Biology, and Materials, and the Clara Immerwahr Award 2017.
Abstract:
Solar energy is an inexhaustible energy source for a sustainable solution to the global energy consumption. The storage of large amounts of light energy can be achieved by conversion into chemical energy saved in biomass. Artificial photosynthesis permits the splitting of water into molecular hydrogen and oxygen and is therefore a very promising strategy to meet the increasing worldwide need for clean energy. This requires the development of high-performance water-reduction and water-oxidation catalysts where the latter is currently the main bottleneck for efficient photocatalytic water splitting. Detailed analysis of the catalytic functioning and the factors determining the efficiency of catalysts is a prerequisite for the design of more efficient catalysts. We present our recent research for the in-depth study of water splitting catalysis using forefront computational methods such as high-performance ab initio molecular dynamics.
Kyoto Institute of Technology, Japan

Biography:
Hisayoshi Kobayashi is a Professor of Kyoto Institute of Technology. He got his Doctorate degree from Kyoto University in 1982 under Professor Kenichi Fukui. His field of research is theoretical analysis of catalysis of metal and metal oxide surfaces. He received the Award from the Catalysis Society of Japan in 1989, and the BCSJ Award Article from the Chemical Society of Japan in 2007. He has worked at the Nippon Sheet Glass Co., and at the Kinki University as a Professor.
Abstract:
The selective photocatalytic oxidation of benzyl alcohol by O2 on the TiO2 surface was theoretically studied by DFT calculations. Experimentally, it is well known that benzyl alcohol is oxidized to benzaldehyde, but cannot be further oxidized to benzoic acid, and TiO2 surface itself is insensitive for the visible light, but becomes sensitive by benzyl alcohol adsorption. These phenomena were clarified by the plane wave based DFT calculations. Dehydroxylated and partially hydroxylated TiO2 with an anatase TiO2 (101) crystal face were modeled with a slab of Ti16O32 and Ti16O32(OH)H, respectively. It was found that the interaction of benzyl alcohol with the hydroxylated TiO2 surface significantly induces the formation of the alkoxide species, of which the donative orbitals hybridized with the O2 p orbital in the valence band (VB) of the TiO2. The visible light response is attributed to the electronic transition from the donor levels created by the alkoxide species to the conduction band (CB). The dissociation of methylene C-H in the alkoxide was assisted by O2, and this process was confirmed to be the rate-determining step. Furthermore, the hydro-peroxide (OOH) species formed by O2 reduction can also oxidize another benzyl alcohol into benzaldehyde together with Ti-OH regeneration. It was thus clearly demonstrated that two benzaldehyde molecules were formed from two benzyl alcohols and one O2 molecule on the TiO2 photocatalysis.
American University of Beirut, Lebanon

Biography:
Rana A Bilbeisi completed her Doctoral studies in Science and Chemistry in the year 2013 from Cambridge University, UK. Her PhD work was on magnetic and host-guest chemistry properties of metallo-supramolecular capsules. After her PhD, she carried out her Post-doctoral work in the synthesis and anion binding of metalorganic non-trivial structures at NYUAD. She works as an Assistant Professor in the Civil and Environmental Engineering Department at the American University of Beirut.
Abstract:
Knots and links are topologically fascinating entities that have been extensively explored in various scientific fields. On a molecular level, chemists developed various synthetic approaches for the preparation and characterization of knots and links. Beyond their aesthetically appealing structures, chemists explored the application of molecular knots and links as molecular machines and switches. The application of exploiting molecular recognition properties of knots and embedding them into polymeric material are areas that are still not well investigated. Topologically unique cavities of knots and links are expected to render their molecular hosts with interesting binding capabilities. Furthermore, based on the properties of naturally occurring and synthetic knotted fibers, knot-based extended networks are expected to be robust yet elastic, and are also expected to serve the material science, biomedical and chemo-sensing fields. We reported a study where anion-binding properties of previously prepared cationic Zn(II)-based trefoil knot (TK6+) and Solomon link (SL8+) were investigated in aqueous solutions. In the solid state, the central cavity of TK6+ hosts two bromide ions through the formation of six aromatic CH anion non-classical hydrogen bonds. In solution, TK6+ retains the property of binding monovalent anions, as evidenced though NMR titrations. Despite carrying out the study in competitive solvent, water, monovalent anions of different shapes (spherical, linear, trigonal planar and tetrahedral) and sizes (ionic radii, r, of 1.7 to 2.4ºA) were found to bind with high affinities to TK6+ in a 1:2 (TK6+: anion) stoichiometry. The first (K1), second (K2) and global binding constants (log β2) of the anions binding were reported.
Measurement of the bromide ion binding constants of TK6+ complexes by titration. (a) Schematic representation of bromide ion binding. (b) Stacked plots of 1H NMR (600 MHz, 298 K) spectra of 1.87 mM solutions of TK6+ in D2O titrated with, bottom to top, increasing amounts of tetrabutylammonium bromide. (c) Binding isotherm obtained by plotting Hj signal shift versus bromide ion concentration. In most cases, addition of more than two equivalents of anion precipitated the knot and prevented further measurements.

Biography:
Takeyuki Suzuki received his BSc (1989) and MSc (1991) from Hokkaido University, and PhD (1994) from University of Tokyo in 1994 under the direction of Professor Masakatsu Shibasaki. He joined Nagoya University as an Assistant Professor in 1994 and has worked with Professor Ryoji Noyori and then he moved to University of Tokyo in 2000. He has worked as a Lecturer at the Tohoku Pharmaceutical University. From 2003 to 2004, he worked at ETH with Professor Erick M Carreira and then he became an Associate Professor at the Osaka University in 2005. His research interests are in synthetic organic chemistry and asymmetric catalysis.
Abstract:
The development of tandem catalytic processes is one of the main subjects for the modern synthetic organic chemistry. Recently we have reported oxidative desymmetrization of meso-diols using chiral iridium complex catalysts. The reaction is safe and environmentally benign process without use of stoichiometric amount of heavy metals. We report here that asymmetric tandem coupling of meso-diols and an aldehyde using a chiral Ir catalyst. This tandem reaction consists of oxidative desymmetrization of meso-diols, aldol condensation with an aldehyde. The reaction of meso-diol 1, benzaldehyde 2 in the presence of a chiral Ir complex (10 mol %) and CsOH in THF gave the desired benzylidene ketone 3 in 82% yield with 96% ee. With the efficient multi-catalytic oxidative desymmetrization of meso-diols in hands, we applied this methodology to the synthesis of catalponol. The corresponding dienone was obtained in 87% yield with 99% ee. Finally, catalponol was synthesized by the regio- and stereoselctive reduction in good yield.

Institute of Chemical Sciences of Rennes, CNRS, France

Biography:
Stéphane Cordier is a Specialist in crystal chemistry and cluster-based compounds. He has developed methodologies that aim at using cluster-based ceramics for the design of hybrid nanomaterials and in particular cluster-based copolymers. His research covers a continuum from fundamental research in order to correlate physical properties to crystal and electronic structures of solid state compounds for the integration of inorganic clusters onto functional surfaces or in optoelectronic devices. He is the In-charge of the Group Solid State Chemistry and Materials at the Institute of Chemical Sciences of Rennes, France.
Abstract:
Metal atom clusters are aggregates of metal atoms held together by metal-metal bonds. Mo6 octahedral clusters are stabilized by inner ligands (Li) in face-capping positions and apical ligands (La) in terminal positions to form [Mo6Li8La6]n- units. On one hand, the concept of [Mo6Li8La6]n- unit constitutes a useful virtual object to describe the crystal and electronic structures of cluster-based solid state compounds. On the other hand, the dissolution of solids affords discrete [Mo6Li8La6]n- units in solution that constitute real and handleable molecular objects with unique physico-structural properties usable as building blocks in the elaboration and structuration of molecular assemblies and nanomaterials. The delocalization of electrons on all the metal centers leads to specific physical properties as for instance luminescence and even photocatalytic properties. Optical properties of [Mo6Li8La6]2- octahedral cluster units are characterized by a large absorption window from UV to visible and a large emission window from 550 nm to the NIR region. Thus, such clusters can be used as red phosphorescent dyes for many potential applications including nanoparticles for bio-labeling, liquid crystals and luminescent nanocomposites for lighting and displays. Cs2Mo6Xi8Xa6 (X=Cl, Br and I) ternary compounds are prepared by solid state chemistry route at high temperature. Interestingly, these ceramics are soluble in many common solvent affording functional [Mo6Xi8Xa6]2- cluster units that can be further use as building blocks for the design of hybrid co-polymers. Cluster based hybrid co-polymers associate the mechanical and shaping properties of the organic matrices along with the phosphorescent properties of inorganic metallic clusters. We will present here (1) the origin of dual emission of Mo6 cluster based compounds and (2) several examples of potential applications of nanomaterials based on the incorporation of [Mo6Xi8La6]2- cluster units in organic polymers (i.e., oxygen sensors and optical waveguides).

Biography:
Alinda Öykü Akar is a Researcher in an industry, who focuses on different studies while collaborating with universities. She works on new formulations of polyurethane elastomer, in response to need of industry while providing unique solutions for process troubleshooting and application related issues. She works on projects for reinforcement of thermoplastics and optimization studies for produced composites in accordance to material characterizations. Her researches on polymeric composites aim to sustain systematic investigation on mechanical, physical, thermal and morphological properties of composite materials. Her academic studies are concerned with biodegradable and biocompatible polymer composites. She is pursuing her PhD in process optimization studies of polyurethane elastomer through DOE and modeling studies while conducting material characterization techniques for investigation of produced material to figure out effect of different process parameters for optimization study.
Abstract:
The improvement of various properties of polyurethane elastomer-thermoplastic polyurethane (TPU) is still of great interest for scientists and researchers due to the expansion of its application areas. In this study, TPU matrix was reinforced with polyhedral oligomeric silsesquioxane (POSS) and halloysites nanotubes (HNT) by addition of them as separately and in hybrid forms. The preparation of composites was carried out using a lab-scale micro-compounder with the loading ratios from 0.5 wt% to 2.0 wt%. The test samples were prepared using injection-molding. As for TPU/POSS/HNT hybrid composites, the loading percentages were (0.5%, 0.5%), (1.0%, 1.0%), (0.5%, 1.5%), and (1.5%, 0.5%). Mechanical, damping, tribological, melt flow and morphological properties of TPU based composites were reported by performing tensile and hardness test, dynamic mechanical analysis (DMA), abrasion resistance test, melt flow index test, and scanning electron microscopy (SEM) methods, respectively. The mechanical properties are improved with the incorporations of HNT and POSS nanoparticles as their both individual and hybrid forms which were revealed by tensile test. HNT and POSS additions at their lowest loading ratios (0.5%) level up the tensile strength of TPU to nearly 20% and 12% higher values, respectively. Further additions of these fillers cause reductions for strength values of composites. No remarkable differences are observed in percent elongation and elastic modulus of TPU after HNT and POSS inclusions. Shore hardness of unfilled TPU slightly increases with the incorporation of the HNT and POSS. According to DMA analysis, the highest loss modulus is observed for 1.0% POSS loaded composite. HNT and POSS containing composites yield higher values in tan δ for the lowest filling ratios. As the SEM micrographs of selected composites examined, formations of agglomerates are observed for higher loading level of HNT and POSS nanoparticles. Homogeneity of their mixing in TPU matrix decreases as the concentrations of POSS and HNT increase. As a comparison, HNT containing composites exhibit slightly higher values over POSS filled composites. This greater reinforcing effect of 1D structured HNT may stem from its larger surface area and aspect ratio relative to POSS with particulate structure.
Curtin University, Australia

Biography:
Daniel E Lazo has completed his Bachelor's degree from the University of Lima, Peru, and his Master's degree from Purdue University, West Lafayette, USA. He is currently pursuing his PhD degree in Extractive Metallurgy at the Western Australia School of Mines, Curtin University, Australia. He has work experiences in Peru, USA and Australia.
Abstract:
Currently, hydrometallurgical processes are the only available method to extract rare earth elements (REEs) from monazite. Conventional hydrometallurgical methods employ extreme conditions including high temperatures, corrosive reagents and concentrated lixiviants. There is thus an impetus to identify more environmentally friendly, less expensive and safer processes to extract REEs. In the present study, the potential for using organic acids to enhance the solubilization of phosphate minerals was reviewed, with a view to relating behavior to monazite. Organic acids have shown applicability in processing phosphate minerals such as dissolving phosphorus from phosphate rocks. With respect to rare earths, it has been demonstrated that these acids have the ability to increase REE mobility and release additional anionic components from REE-bearing and similar minerals, further indicating their impact in dissolution. More specifically, low-molecular-weight organic acids (LMWOAs) such as citric, oxalic and phthalic acids intensify the mineral dissolution in apatite and monazite in natural environments. Therefore, the potential to use organic acids to extract rare earth elements (REEs) from monazite has been established. Experimental results demonstrated that the LMWOAs, especially oxalic acid, achieved a significant amount of monazite dissolution.
University of Torino, Italy

Biography:
Razieh Sadraei is a PhD student in Chemical and Material Science at the University of Turin, Italy. She is working on immobilization of protein onto different inorganic supports and their applications in water treatment. She found a new pathway for recovering enzyme by adsorption and desorption processes. She has expertise in working with some instruments including spectroscopy (FTIR-ATR, UV/Vis, OES), diffractrometry (XRD), zetta potential (DLS), calorimetry and thermo-gravimetric (TGA) and surface analysis (DSA). She is a reviewer for International Journal of Biology (IJB) and Journal of Food Research (JFR). Her fields of interest are Biotechnology and Nanochemistry.
Abstract:
Enzymes are the biocatalysts of the living world, but their properties render them also exploitable in many applications that range from industrial catalysis to therapeutics, including synthetic and pharmaceutical chemistry, wastewater bioremediation, fabrication of high performance biosensors, among others. The use of enzymes, however, is limited by their recovery since this aspect plays a significant role in the evaluation of the cost of the biocatalytic processes, therefore several methods have been proposed for their immobilization on stable supports. This study investigates the possibility of using different phases of nano-alumina for enzyme capture and reuse. Alumina nanoparticles were synthesized in the γ and δ-θ phases with different shapes starting from boehmite and dawsonite thermally calcined at 500 and 1000ºC respectively and tested as adsorbent of commercial soybean peroxidase. The alumina samples were characterized by thermogravimetric analysis, specific surface area, X-ray powder diffraction, scanning electron microscopy, zeta-potential and Fourier transform infrared spectroscopy. The kinetic of recovery was evaluated in different experimental conditions (enzyme dosage, pH, temperature and presence of buffer) indicating that the supports can easily capture the enzyme which can be almost completely released for a subsequent cycle of reaction.

Biography:
Maryam Ali Bash has BSc and MSc degrees in Metallurgical Engineering and is currently a PhD student at the Department of Production Engineering and Metallurgy, University of Technology, Baghdad, Iraq. She attend many worldwide conferences in Europe to presents her work. She has exceptional expertise in design and analysis the relationship between the microstructure and behavior of alloys and advanced ceramics. The most scientific fields of her interest are thermal barrier coatings, hot corrosion and laser processing of advanced plasma sprayed ceramic coatings. She developed many new approaches for mixing of advanced powders and performance of advanced ceramic coatings. She has trained very well to improve her currier during the last 12 years in the area of design, materials selection, microstructural analysis, hot corrosion, oxidation and processing analysis. She has excellent record in lecturing on the materials science and engineering, non-distractive testing such as FT-IR, AFM, Raman spectroscopy, EPMA, EDS and XRD.
Abstract:
Yttria partially stabilized zirconia (YPSZ) systems which are worldwide acceptable TBC for many advanced turbine engines, since developed before more than 30 years till now are widely investigated for high temperature corrosion resistance and for laser sealing. New system based on ceria-yttria stabilized zirconia ceramic thermal barrier coating sprayed above Ni24.5Cr6Al0.4Y bond coat deposited using semiautomatic air plasma spray on Inconel 738 LC superalloy substrate was investigated. The upper surfaces of thermal barrier coating system were sealed using high power Yb+3-YAG laser. The as-sprayed and as-sealed coatings were tested for hot corrosion resistance at different temperatures and exposure times in a mixture of eutectic V2O5-Na2SO4. The upper surface plan views and transverse sections of the exposed samples were analysis using SEM, EDS, EPMA, XRD, FT-IR, atomic force microscopy and Raman spectroscopy. The laser sealed samples showed higher hot corrosion resistance under all tested conditions compared with its counterpart plasma sprayed coating. The presence of ceria in the thermal barrier coating reduced considerably the corrosion rate of as-sprayed and as-sealed thermal barrier coatings. The most dominant phase formed was YVO4 rather than CeVO4. The most detrimental defects accelerate the hot corrosion rate were porosity and voids. The presence of depression in the sealed coatings encouraged the reaction between the harmful species and the constituent of the zirconia based coating. The formation of harmful products of YVO4 and CeVO4 encourage the transformation of non-transformable tetragonal phase to monoclinic phase.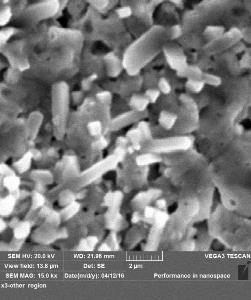 Sever attacks of salts at depressions of laser sealed plasma sprayed coating at 900 oC for 8 hr showing the harmful nature of depressions.
National Central University, Taiwan

Biography:
Sureshraju Vegiraju has his expertise in Synthetic Organic Chemistry. He develops conjugated organic materials for the applications in organic electronics and studies the opto- electronic properties.
Abstract:
New 3,3'-dithioalkyl-2,2'-bithiophene (SBT) based small molecular and polymeric semiconductors are synthesized by end-capping or co-polymerization with dithienothiophen-2-yl (DTT) units. Single crystal, molecular orbital computations, and optical/electrochemical data indicate that the SBT core is completely planar likely via S(alkyl)∙∙S(thiophene) intramolecular locks. Therefore, compared to semiconductors based on the conventional 3,3'-dialkyl-2,2'-bithiophene (BT), the resulting SBT systems are planar (torsional angle<1o) and highly π-conjugated. Charge transport was investigated for solution-sheared films in field-effect transistors demonstrating that SBT can enable good semiconducting materials with hole mobilities ranging from ~0.03 to 1.7 cm2 V-1 s-1. Transport difference within this family was rationalized by film morphology as accessed by grazing incidence X-ray diffraction (GIXRD) experiments.
University of Bordeaux, ICMCB-CNRS, France

Biography:
Alain Demourgues has worked at ICMCB as a Research Fellow. He became the Research Director at CNRS in 2008. He received IBM-France Award in 1993 (Young Scientist in Materials Science) and SFC (Société Française de Chimie) Award in 2003 (Solid State Chemistry division). He is a Consulting Scientist since 1998 at Rhodia-Solvay in the field of solid state chemistry, redox and opto-electronic properties. He has 128 publications (h-index 23) and 9 patents. He was the In-charge of 20 industrial contracts and has directed 19 PhD students.
Abstract:
In the last 20 years, intense efforts deal with the environmental impact decrease of the automotive exhaust gases. Highly severe regulations led to the design of new materials for CO, unburned hydrocarbons oxidation and for the NOx reduction from industrial sources, especially from diesel automotive engines. Diesel oxidation catalysts (DOC) have then been developed to oxidize CO, hydrocarbons and NO, in order to reach the NO2/NOx ratios suitable for the downstream system of selective catalytic reduction (SCR) of NOx by ammonia. Therefore, rare-earth oxides (REO) involving mixed valence states such as Ce4+/Ce3+, Pr4+/Pr3+ and Tb4+/Tb3+ exhibit the best acid, basic and redox properties (with high oxygen availability and mobility) to fulfill the requirements of enhanced catalysts. Considering that Tb4O7 is too expensive for extended industrial applications, the objective is to finely tune the composition, structure, texture, oxygen mobility and storage of Ce/Pr/Zr based oxides to design effective and robust catalysts for DOC and SCR. Recent studies have evidenced that a fine tuning of some chemical CeO2-ZrO2-Pr6O11 compositions can stabilize Pr4+/Pr3+ rates associated with oxygen vacancies leading to high OSC, oxygen mobility, thermal stability up to 1400ºC and surface areas varying between 80 and 40 m2/g at 700ºC. Moreover, preliminary catalytic results for DOC application revealed outstanding properties without any PGM (platinum group metal). Neutron and X-ray diffraction analysis during the redox cycle reveal the occurrence of oxygen vacancies ordering depending on the Pr4+/Pr3+ and Ce4+/Ce3+ atomic ratios determined by magnetic measurements and XANES analysis.
Ames Laboratory, US DOE, USA

Biography:
V P Balema has his expertise in new material development in academic and industrial environment. The main focus of his research during the last decade has been on the energy conversion and storage materials, and non-conventional materials preparation techniques, including solvent-free mechanochemistry. For a decade, between 2006 and 2016, he was directing Hard Materials Market Segment and Materials Science R&D at Sigma-Aldrich Co. In 2016, he joined the Ames Laboratory and led research consortium CaloriCoolTM where he directs the materials development group. He has served as a reviewer for the US Department of Energy, NSF, US Civilian Research and Development Foundation (CRDF), ACS Petroleum Research Fund and a variety of peer reviewed scientific journals. He has also acted as the Section Chair at the annual MRS meetings and other conferences.
Abstract:
The presentation addresses the mechanochemical approach to solid-state synthesis, which proved to be indispensable for the solvent-free preparation of a great variety of molecular, ionic and metallic solid materials. The talk specifically focuses on the solid-state synthesis of rare earth-based metal organic frameworks (MOFs), which have a potential for becoming materials of choice for low temperature magnetocaloric systems that are under development at CaloriCoolTM.. CaloriCoolTM is a newly established research consortium, which discovers, develops and deploys materials for magneto- electro- and elastocaloric cooling. It is a part of the DOE's energy materials network (EMN) designed to accelerate innovation around the clean energy industries by addressing pressing materials challenges ranging from early development to manufacturing. In the course of our research, we showed that the mechanochemical approach can be successfully applied to the preparation of MIL-78-type metal organic frameworks. Contrary to the previous reports, the presence of a liquid (liquid assisted grinding) is not essential for the process. Thus obtained Gd-, Tb- and Dy- based MOFs showed short range magnetic order below 20 K; no long range order was observed down to 2 K. The magnetocaloric effect of Gd-based material was found to be comparable to the best known cryogenic refrigerants. Our further investigations revealed that the mechanochemical methodology can be extended onto other rare earth-based hybrid organic-inorganic materials with substantial magnetocaloric effect at cryogenic temperatures.
University of Bordeaux, ICMCB-CNRS, France

Biography:
Véronique Jubera is an Associate Professor-HDR, University of Bordeaux. She has over 70 publications in international journals. She is a specialist of luminescence of inorganic doped compounds. She has been working as an Associate Professor at the ICMCB-CNRS, University of Bordeaux since 14 years. Her research topic deals with the structure-luminescence properties of crystallized materials.
Abstract:
Recent developments in fast sintering processes makes possible to highly densify refractive materials. The application of these techniques in order to obtain transparent laser materials is promising and satisfying efficiencies have been recorded. Concerning the spark plasma sintering process, the main constraint is to control the grain growth so as to avoid anisotropy and diffusion in the ceramic, thus cubic matrices are preferred. The lattice of the Y3NbO7 phase is very interesting as it adopts a cubic symmetry being capable of incorporating a high proportion of rare earth doping elements, without charge compensation requirements. The oxygen vacancies are tolerated between 21-28% of niobium over cations (Nb/(Nb+Y)) ratio. We propose to expose the structural study and luminescence properties of Eu3+ doped Y3NbO7 sintered by SPS. Indeed, the fast and high crystallization rate of the phase results in a composite pellet in which two different compositions in the solid solution range are stabilized. This result shows an unexpected lack of miscibility in the phase diagram which reflects the fact that the final composition is driven by the SPS conditions and the ratio between niobium and yttrium elements.
University de Bordeaux, ICMCB-CNRS, France

Biography:
Olivier Toulemonde is working at the Institute for Solid State Chemistry Bordeaux (ICMCB), Université de Bordeaux as an Assistant Professor. He became an Associate Professor at University of Bordeaux in 2006. His work is devoted to the study of the relationships between the nuclear structure and the magnetic properties of oxides materials. He is the member of the cross functional axis related to exploratory solid state chemistry at ICMCB.
Abstract:
Transition metal oxides with ABO3 and A2BO4 are known as perovskite-type and K2NiF4 type structures, respectively. First, their ability to undergo reversible oxydo-reductions chemical reaction are technologically very attractive as electrodes in fuel cells (SOFC), as oxygen storage materials in anaerobic processes and as three way catalysts (TWC's). In addition, it is the control of oxygen released and/or up taken that opens ways towards huge change of their physical properties such as metal/insulator transition and/or anti-ferromagnetic to ferromagnetic transition. When a single transition metal is introduced on the B crystallographic site, its oxidation state is indeed in direct relationship with the oxygen content. However, when two transition metal cations are introduced on the B crystallographic site, our recent results highlight that their relative oxidation states are closely related to a metal to metal charge transfer giving unexpected oxidation state distribution. In SrFe0.5Co0.5O3-y materials, we highlight that the distribution of cobalt and iron oxidation states is heterogeneous; indicating that oxidation of cobalt cation requires higher oxidation potential than for the iron ones. We emphasize the correlation in between the exhibited paramagnetic to ferromagnetic transition around room temperature and oxidation state distributions and, used that fact to better analyze the giant exchange bias like properties exhibited by SrFe0.25Co0.75O2.63 material (see figure). The influence of oxygen annealing in the electronic states for (Cu1-X MoX)Sr2RECu2O7+d (RE=Y, Er, Tm) has also been investigated. The predominance of the Mo(V) oxidation state over the Mo(VI) one on as-synthesized phases has been shown. But, annealing under flowing oxygen enhances both the Mo(VI) and Cu(II) amounts indicating molybdenum to copper charge transfer. Interestingly, the redox reaction related to the molybdenum to copper charge transfer is associated with a non-superconducting state to a superconducting state phase transition.
Petru Poni Institute of Macromolecular Chemistry, Romania

Biography:
Mihaela Olaru has a PhD in the field of synthesis of polyurethanes with different functional groups at Gheorghe Asachi Technical University of Iasi, Romania. She has 35 papers published in reputed international/national scientific journals, 1 book and 4 book chapters. Her work focuses on photochemistry, polyurethanes, hybrid nanocomposites, cultural heritage, antimicrobial coatings and she has experience in synthesis and experimental data analysis.
Abstract:
Knowledge about pigments applied in all types of paintings, especially in the case of ancient ones, is of great importance from both art history and conservation perspectives. Usually paint surfaces consist of several complex multilayers that can be altered due to aging or various degradation factors. The deterioration depends either on the paintings surrounding conditions or on the nature of the interactions between the constituting components. Identification of pigments and other materials employed in the creation of the paintings is necessary in order to acquire information regarding their provenance, author's painting style and methods or date of production. All these information is of major importance in selecting the most appropriate materials and methods for the artwork's future restoration. Nicolae Grigorescu is the most representative Romanian painter, being considered the founder of modern Romanian painting and the most important Romanian impressionist. He generated a comprehensive, original and unitary creation, spanning over almost 4000 paintings and drawings. Although his paintings rank first place in top 100 bestselling Romanian painters, there is no comprehensive work dealing with the identification and structural characterization of the pigments and materials used by him. The combination of various mobile, non-invasive techniques (IR reflectography technique, optical microscopy, XRF, Raman and NIR spectroscopies) and lab-based devices (FTIR and XPS spectroscopies, and SEM-EDX microscopy) lead to the first exhaustive investigation of pigments and materials used by the famous Romanian painter Nicolae Grigorescu in three cultural heritage paintings. The study of a large number of spots and samples allowed a rigorous analysis and a far-reaching insight into his work. The present work is the first scientific paper which proves the use of natural ultramarine by a painter belonging to the impressionist school.